This weekend was a washout as far as mountain biking or road cycling goes. I did neither and I am very depressed about it. But my husband and I had "house" chores to do and they had to be done. But I did get a new bright neon green Canari cycling jacket. People should see me coming from miles away. It's so green with reflective piping along the sides and sleeves. The sleeves can be unzipped and removed turning the jacket into a vest. I like it a lot.
I have a full day of work tomorrow. On Tuesday I only have to go in for a morning meeting. My summer break officially ends next Tuesday the day after Labor Day. Yes, another school year begins in a week. This time of year always depresses me. Not because I have to go back to work (okay, maybe it's one of the reasons) but because right after fall is winter, which is my least favorite season. The cold, darkness, and gloom are so depressing. I am a sun person and the lack of it really affects me. But I seem to get through it every year, even though it seems to get harder and harder with each passing year.
On the bright side, on Tuesday afternoon Jackie and I plan to do a road ride. We are thinking about doing the upper 20 mile Black Diamond Loop. Wednesday I am not to sure about at this point. I am debating on either doing a morning ride (about an 8:00 or 9:00 AM start) or an afternoon ride (about a 3:00 or 4:00 PM start). Thursday another afternoon ride with my daughter and Friday a possible club ride. Cascade Bicycle Club has a Vashon/Maury Island ride scheduled for 9:00 AM. We are to meet at the Fauntleroy Ferry Terminal where we will catch the 9:25 AM ferry to Vashon. Once we are on Vashon we are going to circumnavigate the islands stopping to have lunch before returning by ferry to the mainland. Whether I ride with the club on Vashon or with my daughter one fact is certain, I will have fun! And hey after all isn't that what it's all about?!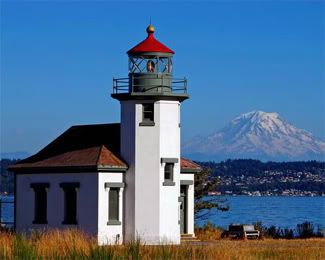 Point Robinson Light House, Maury Island, Washington